Sooner or later, you will need to format your drive. There are a bunch of reasons why you would want to do this: it's getting slower, it's been infected with a virus, it's using an incompatible file system – we'll go into more detail below.
Formatting a drive erases your data, so it's a daunting process. And when you format it, which file system is the best? This article answers all these questions and teaches you how to format your Toshiba external hard drive for Mac… With and without data loss.
What is formatting and why you need it
Formatting a disk (especially an old disk) almost always makes it faster, and it can be imperative for disk health. Here are the specifics:
Use for operating system

– If you want to use a hard drive for your operating system, it must be formatted to make room for the new file system and all the prerequisites to run macOS.

Remove viruses

– Reformatting your Toshiba external hard drive will erase everything, including viruses and other harmful programs. When your antivirus can't contain the infection, formatting usually does the trick.

Fix Corruption

– If you are having the following issues: RAW drive, "sector not found" error, being prompted to format the drive, wrong filenames, "invalid media type" error, or drive not mountable – you are probably dealing with corruption. In severe cases of corruption, formatting is the only way to make the drive usable again.

Change file system

– If you are using the wrong file system, you will not be able to use your disk with macOS. You must format it in a compatible file system to use it with your Mac. More on this in the next section.
Which format to select for Toshiba hard drive
Mac works with many formats, but we also want to consider the purpose of that hard drive when determining the best file system to use. FAT32, exFAT, HFS+, APFS… The acronyms are confusing. But we've done our best to break down each file system so you can make a confident decision when choosing.
FAT32

– FAT32 is hailed as the "most compatible" file system and is one of the oldest formats still in use. We no longer recommend formatting anything in FAT32 due to its 4GB limit per file, but it's worth knowing as it's still prevalent. FAT32 (and its successor ExFAT) was designed for external storage.

💡 Good for: Obsolete for most users.

ExFAT

ExFAT is a lightweight and reliable file system for storage devices. It's the modern replacement for FAT32, and it doesn't have the 4GB limit per file. You will mainly find this format in new USB sticks, memory cards (for smartphones and cameras) and external drives. It is compatible with macOS, Windows, Linux and other popular operating systems.

💡 Good for: External storage devices such as external hard drives, external SSDs, SD/microSD cards and other memory cards, etc.

SHF+

HFS+ (also called Mac OS Extended) is Apple's native file system for mechanical hard drives. It is "smarter" than ExFAT and FAT32 with more security features, healing capabilities, fragmentation safety and more. But that's because it was designed to store the operating system on an internal hard drive. For that, it's perfect… Not so much for external drives. It's not as lightweight as ExFAT and you can't use an HFS+ drive with Windows.

💡 Good for: Internal hard drives for macOS.

APFS

APFS is Apple's newest file system designed for internal SSDs (solid-state drives). It's great for storing the operating system on newer Macs, but it's not so good for external drives – you can't use it with Windows either.

💡 Good for: Internal SSD drives for macOS.
All things considered, we recommend formatting your Toshiba external hard drive to ExFAT for an efficient data storage and transfer system that works with both macOS and Windows machines.
How to Format Toshiba External Hard Drive for Mac
The native macOS tool, Disk Utility, is a perfect Toshiba hard drive formatting utility, especially for corrupted drives. Even if your Toshiba hard drive doesn't show up in Finder, it may show up in Disk Utility.
However, formatting completely erases the data on your drive. This is what makes it so effective at cleaning up logically damaged disks. If your data is important to you, make sure to create a backup first.
Step 1. Launch Disk Utility (Finder > Applications > Utilities).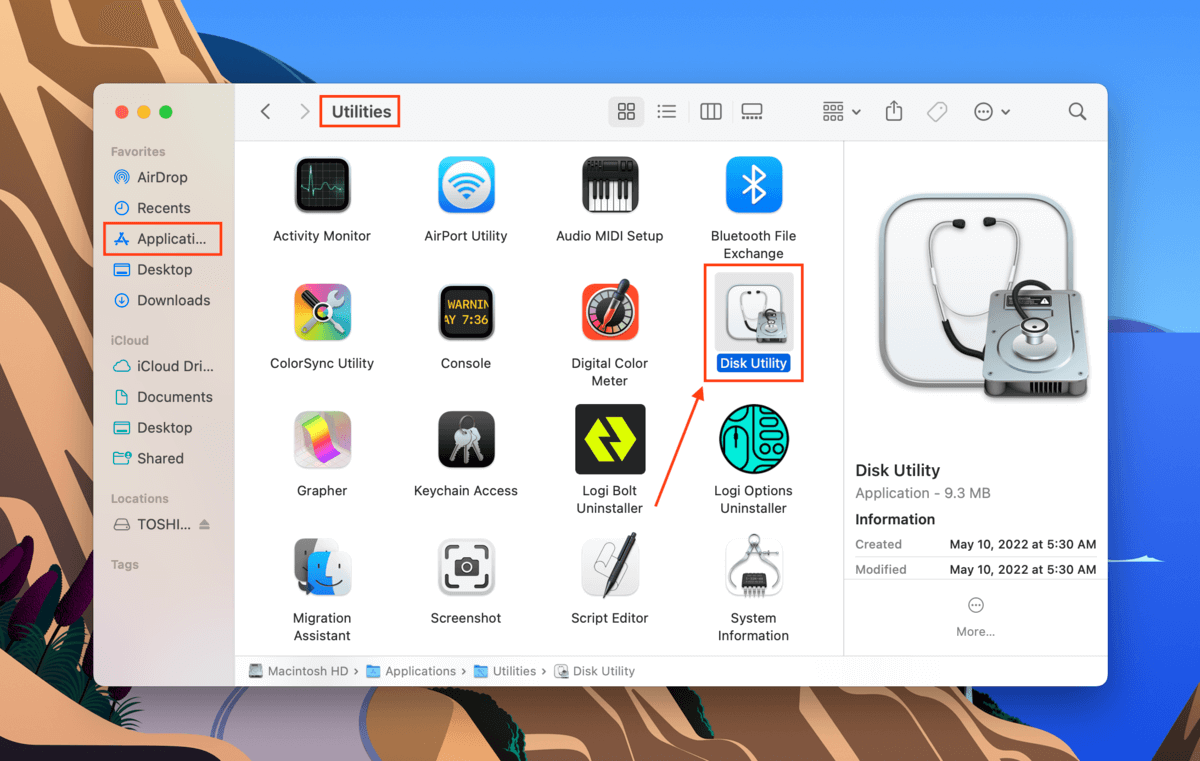 2nd step. Click on the "View" button and select "Show all devices".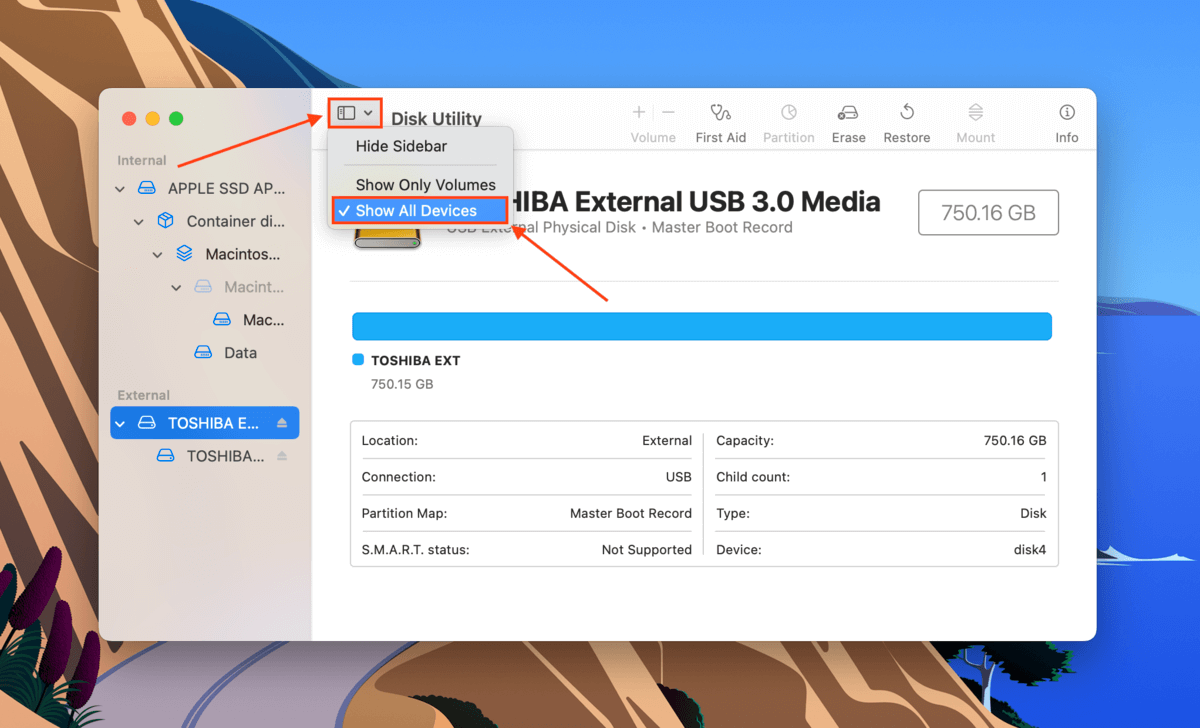 Step 3.On the left sidebar, select your Toshiba hard drive. Then click on the "Delete" button.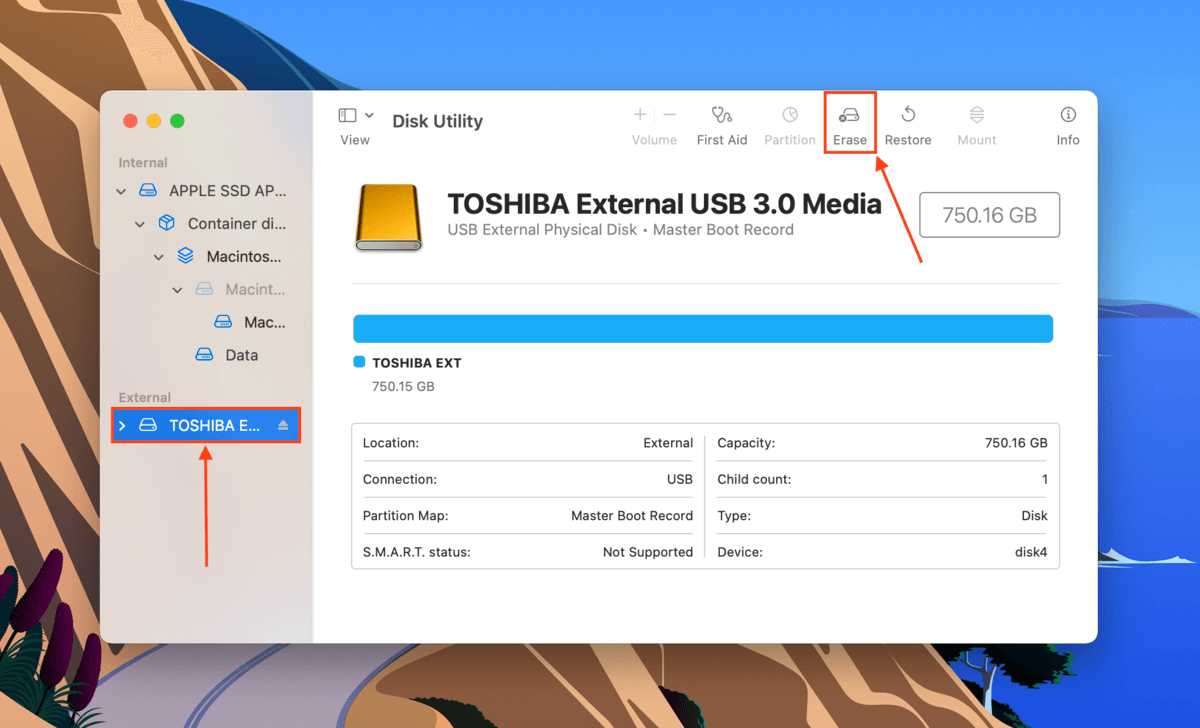 Step 4. Name your drive, choose GUID Partition Map for the scheme, and choose ExFAT for the format (Why ExFAT? Read this section of the article). Then click "Erase" to reformat your Toshiba external hard drive.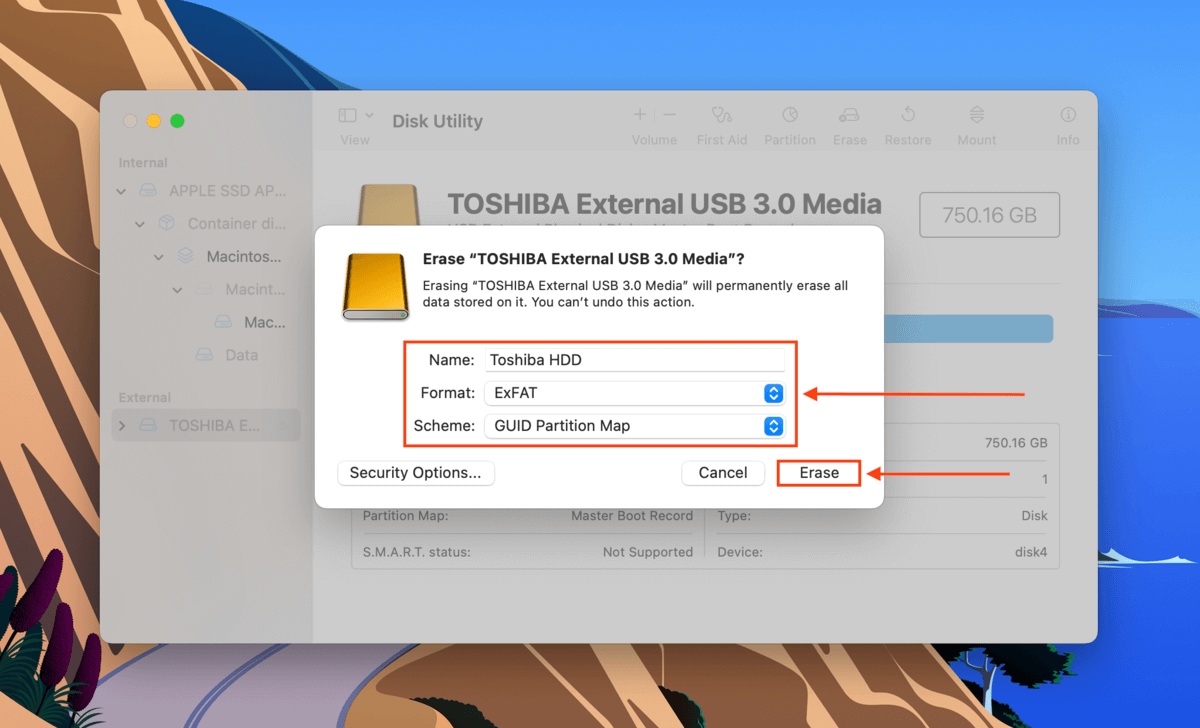 The GUID/GPT partition map works best with UEFI-based systems (which is the default for most modern machines). For older machines, you can use the MBR scheme. For more information about GPT and MBR, read This article by How-To Geek.
How to Recover Lost Data after Formatting Toshiba Hard Drive
Even after formatting your drive, you still have the ability to recover most of your data. Just make sure to stop using it immediately after formatting. Do not save any new files there. For this task, we need to use data recovery software to directly extract data from the file system.
For this article, we will use disc drill. It is very efficient in recovering data from external hard drives, and it has a user-friendly graphical interface, so it is perfect for users of all skill levels. Here's how to use it:
Disk Drill is not freeware. But since you only pay once for lifetime use and we've had great success using Disk Drill on various devices for Macgasm items, we highly recommend it. Free data recovery software exists, but they all have their own limitations.
Step 1. To download and install Disk Drill.
2nd step. Launch Disk Drill (Finder > Applications).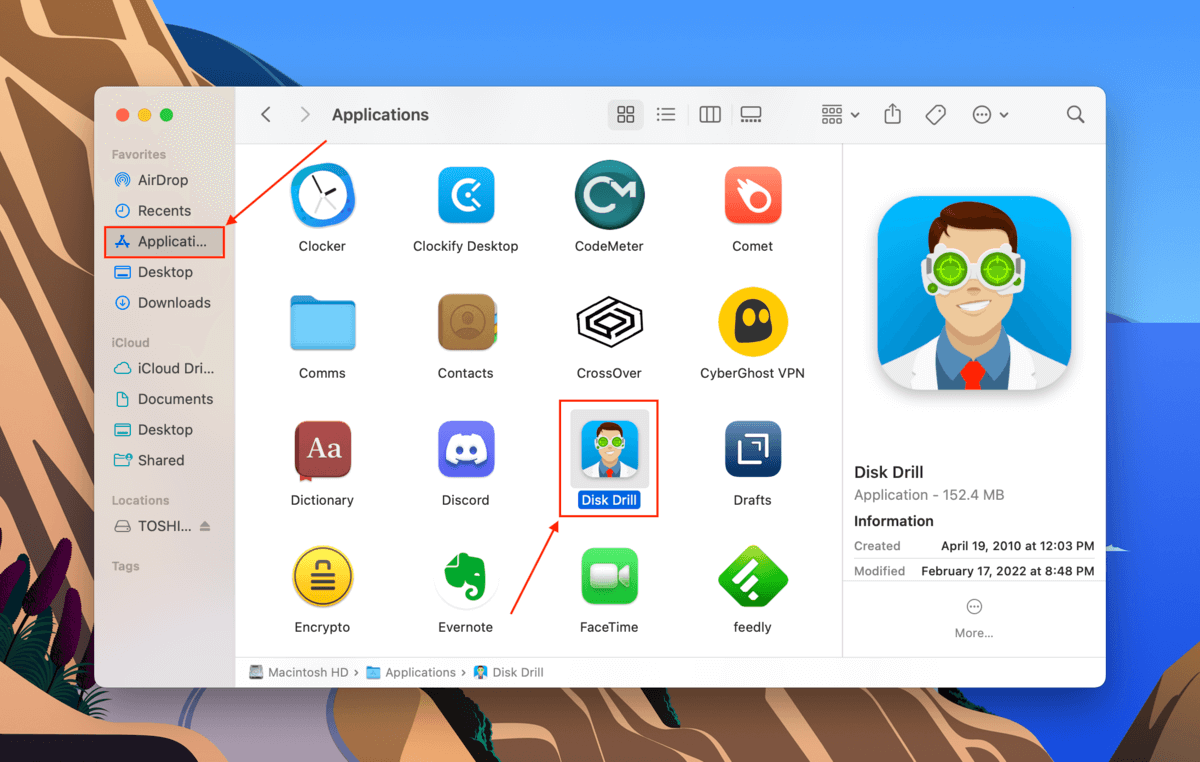 Step 3. In the middle pane, select your Toshiba hard drive (or disk image) and click "Scan for lost data".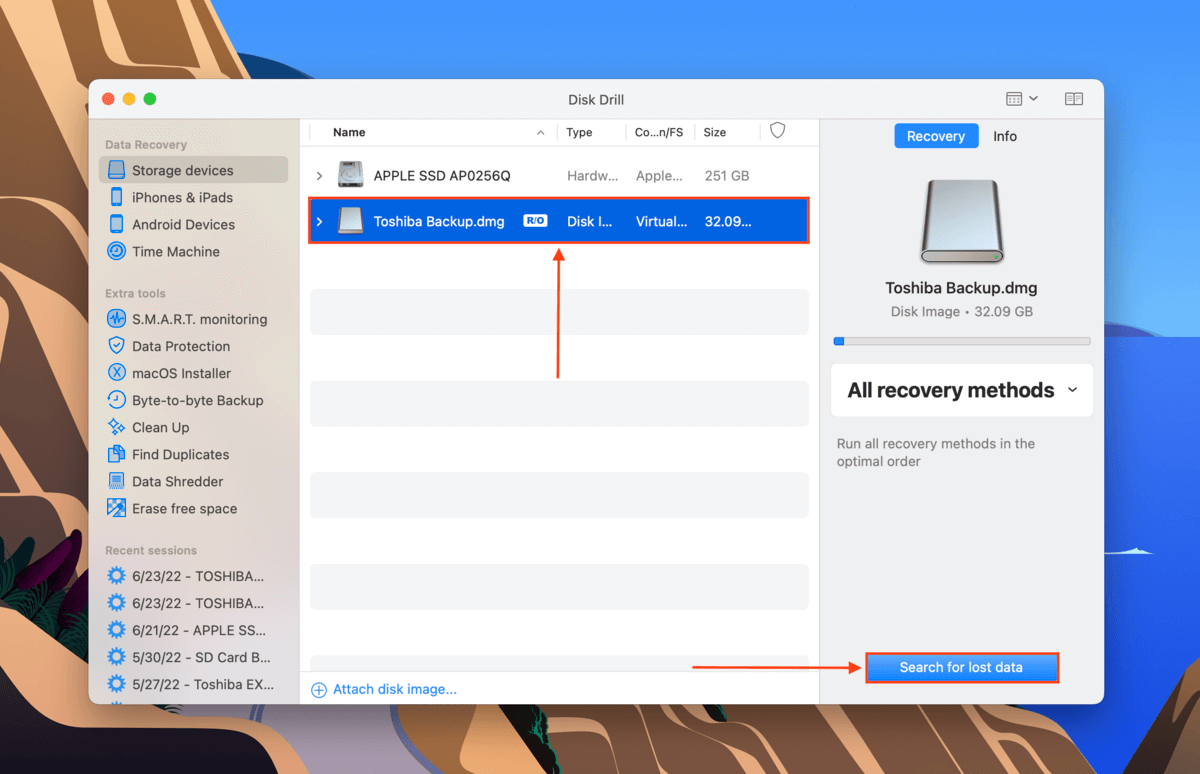 Step 4. Wait for Disk Drill to complete its scan, then click "Review Found Items".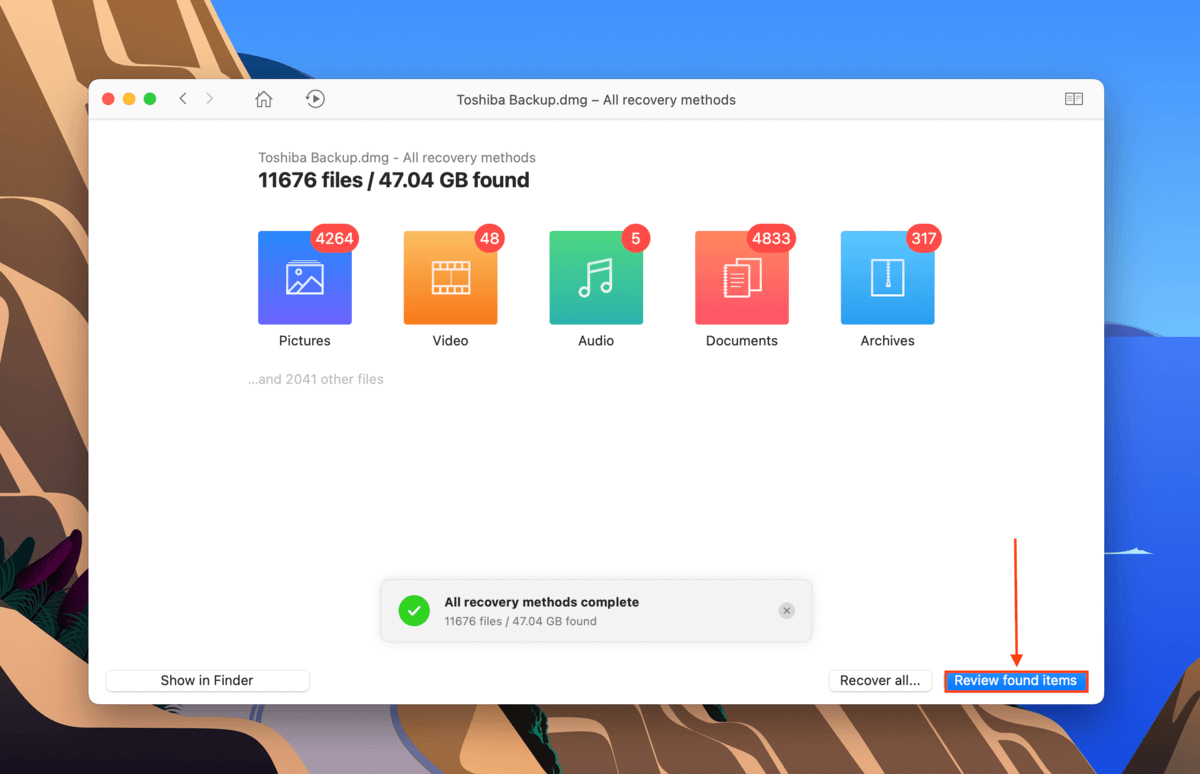 Step 5. In this window, you can use the search bar and the left sidebar to filter the scan results.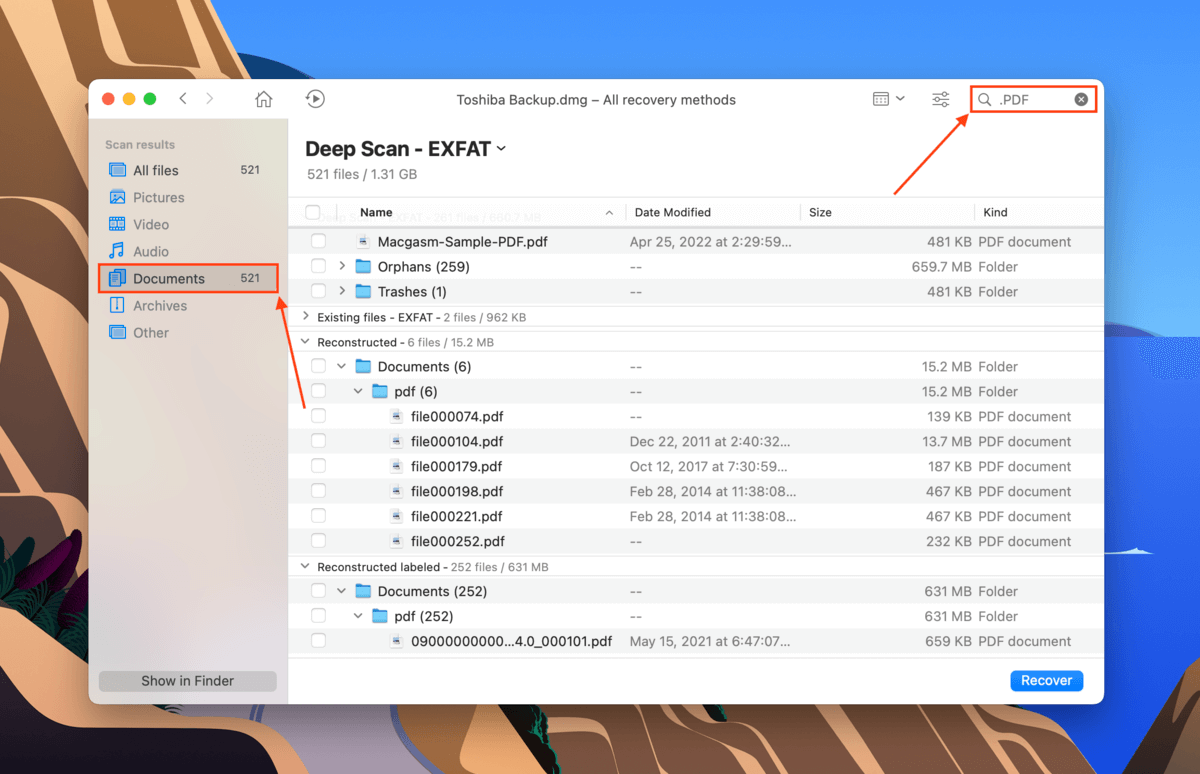 Step 6. You can also preview your files. Hover your mouse pointer to the right of any file and click the eye button that appears.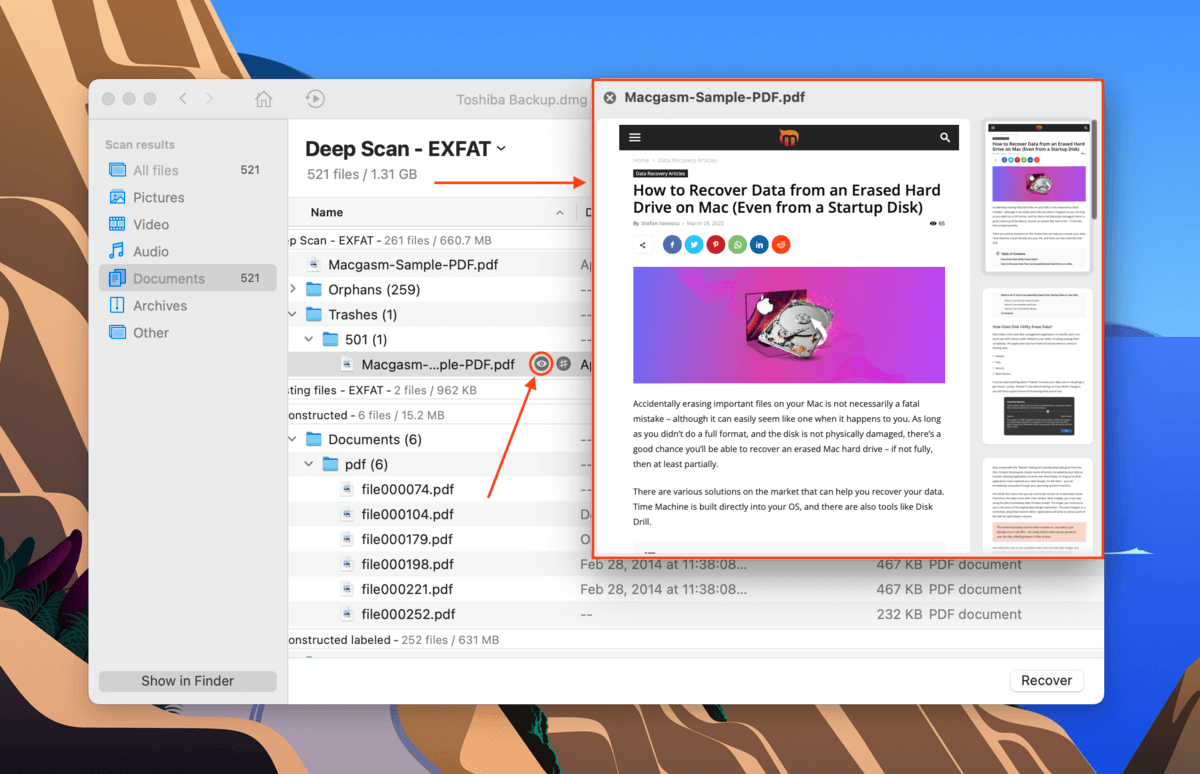 Step 7. Use the boxes in the leftmost column to select the files you want to restore, then click "Recover". You can also leave all boxes blank and click "Recover All".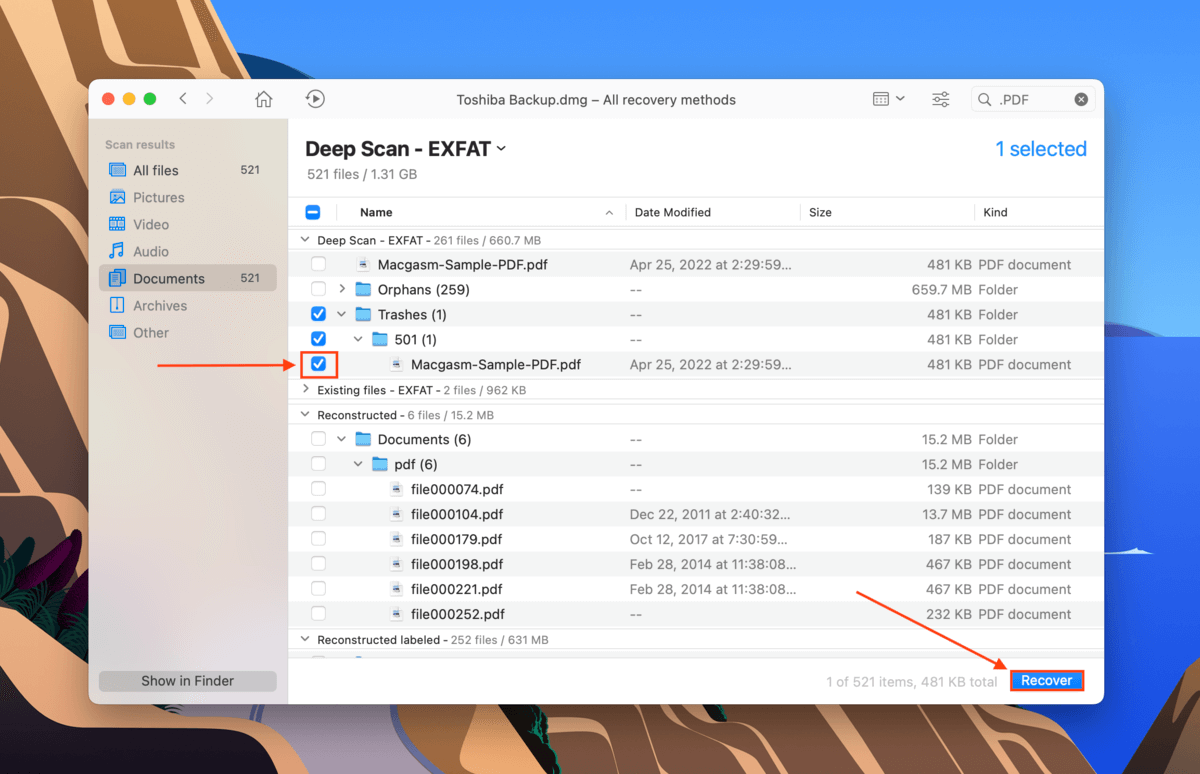 Step 8. Select a location on your computer where Disk Drill will save restored files. Then click "OK".