Arouse emotion and inspire others with his art
If you ask Allyson Hernandez why she loves being an artist, she will give you a simple answer.
"Since my childhood, I have always wanted to see my art inspire and arouse a positive emotion in all those who see it. So it's always been my goal to make people smile and feel happy to see my art, "said high school senior Cedar Hill.
And that's exactly what a lot of people do when they see his latest creation. She designed the Cedar Hill School District Christmas card this year.
Hernandez won a competition that his art teacher told him about.
"When Ms. (Danielle Grays-) Johnson told us about the contest, I knew I had to participate. There were a lot of ideas going through my head, but with each idea I felt there could be something more, "Hernandez said. "It wasn't until Mrs Johnson said, 'Well, I didn't see anybody do anything with the longhorn.'
"It hit me then, what if the longhorn becomes the adorable Saint Nick?" I started working on the sketch and transferred it to my laptop to add the touches that I knew would make our longhorn suitable for the holiday spirit.
Thus, his creation was born. And while many are happy to do so, Hernandez remains humble by taking all the credit for himself.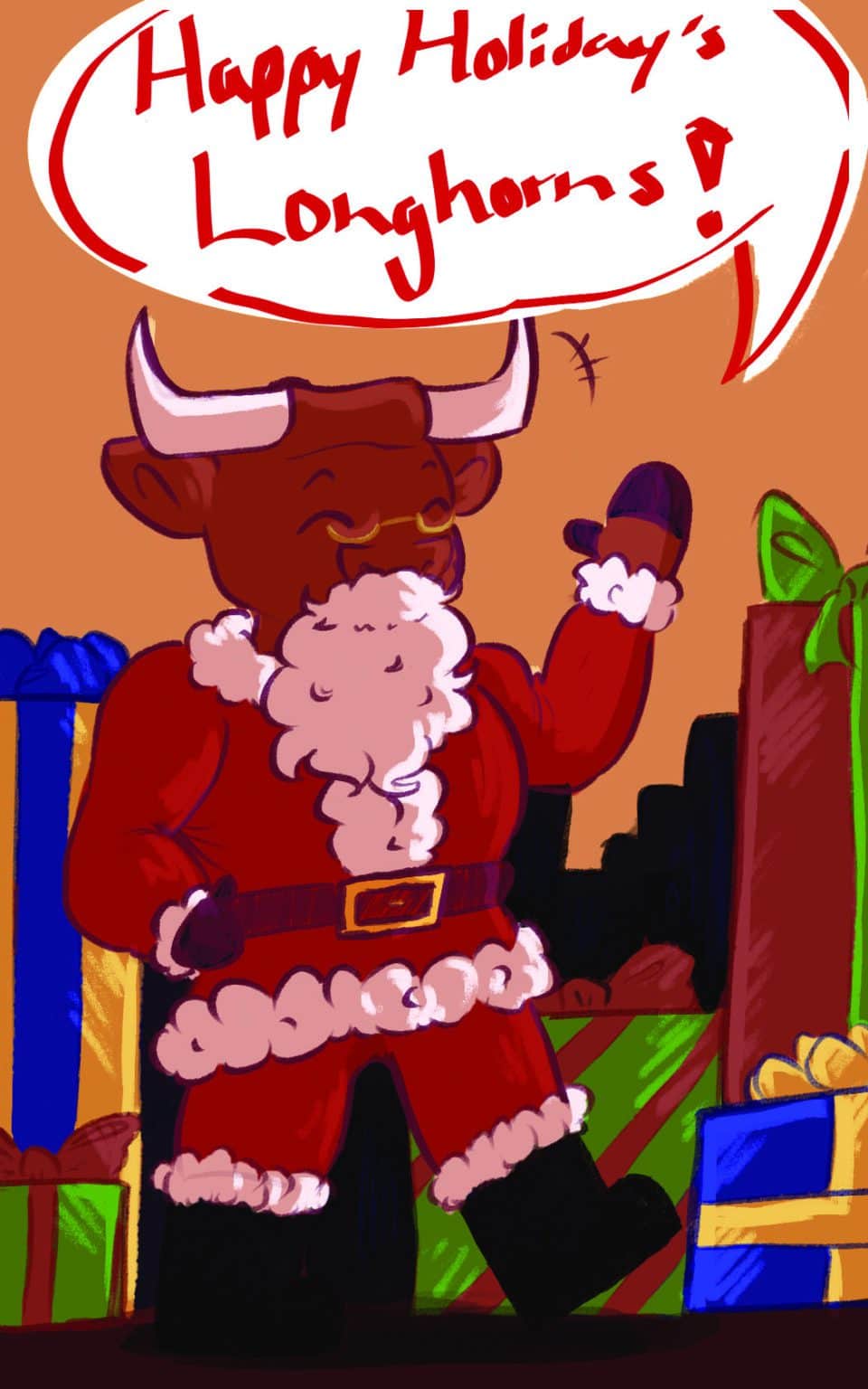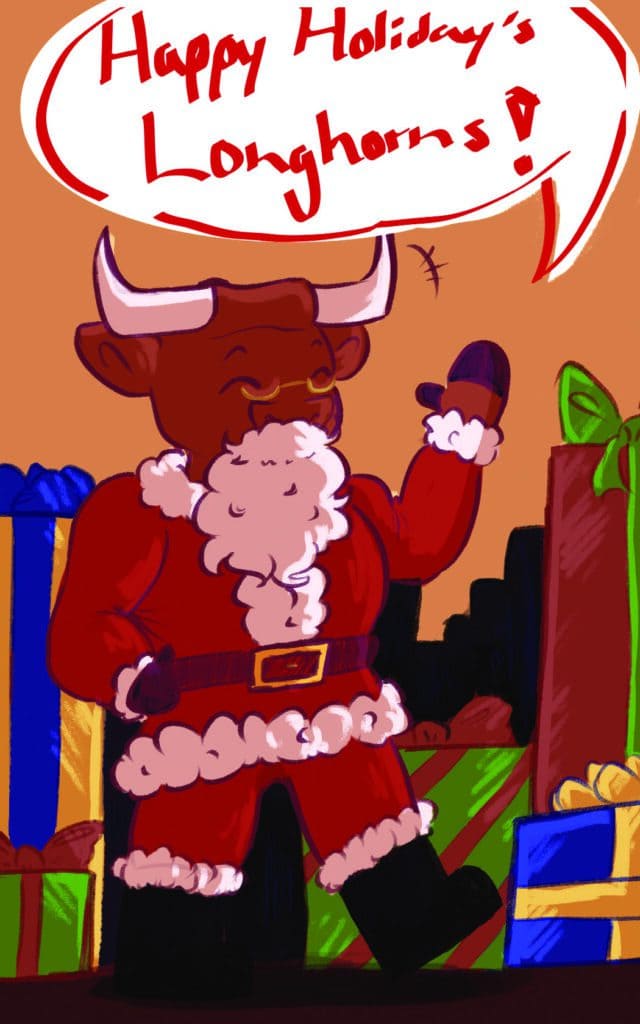 "I couldn't have done it without Ms. Johnson's help. With every idea that came to my mind when I first brainstormed on a perfect result, I felt they were good, but there was always something missing that could make it great, "she said. "She is one of my favorite teachers and one of the few teachers that I will miss once I graduate."
Progress as an artist
Gray-Johnson, who has Hernandez in his advanced placement studio art class, said Hernandez would submit a digital art portfolio. She praised her award-winning student's growth since last year.
"I can say how much she has grown as an artist. She is passionate about her art and takes it very seriously, "she said. "Allyson was part of our 'Van's Crew' last year. She is one of the students who helped us win the $ 15,000 for the Vans Custom Culture contest. "
Hernandez admits the project was not a quick start. But then she stays busy, which includes rehearsals for the role of Sandy Cheeks in the school's production of "SpongeBob The Musical."
"In class, I was able to put the basics in my laptop, ready for coloring and rendering. When I got home, I started to finish what I had started in class. I was fortunate enough to finish it and email it to my teacher to go with the others, "she said.
Then the waiting game started
"I remember how eagerly I looked forward to the results. Then one morning I got an email from Mrs Johnson to come to her room as soon as possible, "Hernandez said. "That's when she showed me the email telling me my design had been chosen. I was so excited I had to hold everything back so I didn't look crazy jumping and screaming in the hallways.
As cool as this project was, it wasn't the first art creation she left her mark on school with. She designed two murals in the longhorn theater costume class, as well as a cup of coffee. She also painted a theatrical unicorn in one of the theaters. She also took second place in a few previous competitions.
And each has their own special place, just like this, she said.
"With everything I have designed over the years, my heart fills with excitement because you never know what the next project might be," she said.
And, ironically, this is not the first Christmas card she creates.
"I designed one last year for a mission. We have been tasked with creating a card to give to a family member, teacher, etc. She said. "That was before I had the confidence to use my tablet during class time.
"I remember making the theme for my card centered on the game that was popular at the time called 'Between Us', which gave it a holiday touch. The card I made was just for fun and laughs for my friends and family. But I still remember how happy I was to do it.
The other great love of Hernandez is the theater. She joined eighth grade, playing Little Orphan Annie in the production of "Annie Jr. The Musical".
"Soon after, my lineup changed from a Brooklyn newsie to my next role as Sandy Cheeks. I have to say that of all my years in the theater, my favorite role was Elizabeth in our one-act portrayal of "Frankenstein," she said.
Hernandez is very active in the theater. She is the president of her troop, and she helps lead the group, alongside her five fellow officers.
"As my final year draws to a close, I will always remember fond memories and the people I met along the way. With theater, we always strive from that quote from Alexander Pope that says, "Do your part well, the honor lies," she said.
Life after high school
But even though she enjoys the theater, it is not her main passion as she is preparing to attend North Texas or Oklahoma State University. She plans to study graphic art. However, she said that what she learned in the theater will help her in this career to come.
"As much as I will miss theater, I will always use the things I learned in theater to help me shine in my artistic career," she said. "I formed a kind of family with the group of people I had the pleasure of meeting. But until I go through this scene in May 2022, I will shine until the end in the theater.
"What I want to do as a career is to become either a graphic designer or an illustrator. I know I will be successful in these areas because I train every day to improve my skills and hopefully keep up with some of my favorite businesses. Art is in my blood. My family has talented artists on our tree, and those traits run through me as well. "